Instantia is a global leader in the health food industry; we offer the highest quality products to meet European, Asian and American standards. To achieve this, we are constantly working to provide the best quality products that are the best alternative of our customers, working every day of the year to be the best in the industry.
The fundamental aspect of our company is to be able to offer quality, price and service. To reach the desired quality we take care of choosing the best fruits of the Mexican fields, we are in constant communication with farmers and also visit them to make sure that our fruits do not receive additives or pesticides that can affect the health of our clients. Also, we take care of every detail of our dehydration processes (depending on the fruit is the temperature and time), packaging and presentation to our final customer.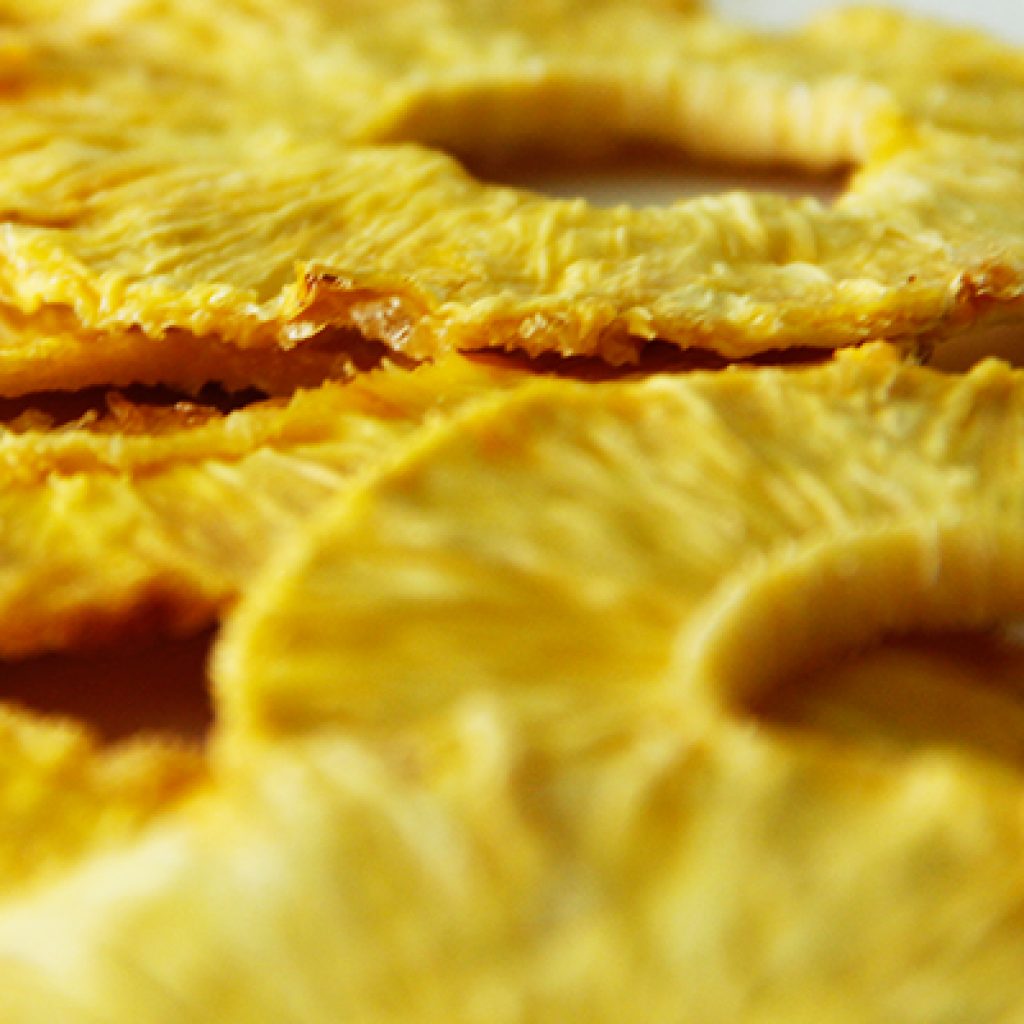 When it comes to price we want to give our customers the best price that we can offer to be competitive in the market and can buy healthy products at a fair price. Finally with service we mean to have a good customer service, solving your doubts opportunely, delivering in the agreed time the products that our customers requested. In addition, to give greater competitiveness to our customers, we have the ability to offer products with particular specifications of each customer. Our commitment is with our customers to provide them the best product, at the best price with the best customer service.
Instantia offers its clients a wide and varied range of 100% natural products, among which our dehydrated fruits stand out, since they are a delicious food that brings multiple benefits to the health of consumers. Among our most requested products is dried pineapple.
The pineapple is a native fruit of South America, it is a tropical fruit that has a different appearance and its exterior is not smooth. However, its pulp is sweet and bitter being ideal to eat alone, in beverages, sauces in various dishes, jams or even desserts.
The pineapple, besides having a delicious flavor is a fruit that has many health benefits because it is diuretic, improves digestion, cleanses the skin, contains fiber and minerals like magnesium, iron, and potassium; also it contains antioxidants, among other vitamins.
Dried pineapple helps digestive problems because it contains fibers that are like a sponge in the intestine and clean your organism, remedying constipation and eliminating toxic elements that could cause damage.
In addition, pineapple contains chemicals that stimulate the kidneys and help eliminate the toxic elements of the body; causing an improvement in the health of the skin.
The protein that is responsible for facilitating food disintegration and absorption of nutrients is bromelain, helping to decrease acidity and stomach problems. In addition, bromelain can also prevent embolisms and help fight cancer cells (not a substitute for medical treatment).
In addition of the benefits already mentioned, pineapple also contains folic acid that allows strengthening the immune system; due to its potassium content also helps to combat atherosclerosis.
If you are not yet convinced to start eating pineapple in your daily diet, it is time to start as its health benefits are numerous. In addition, pineapple protects the health of the heart because it fights blood clotting, as well as capturing and eliminating excess cholesterol in the body. Also, pineapple also helps to strengthen the nervous system, facilitates the absorption of calcium, helps regulate glucose levels, and is a natural anti-inflammatory.
In addition of containing antioxidants, pineapple contains vitamin C, B1, B6, sodium, and calcium. Is a type of food that helps you lose weight because it makes you feel satisfied. It should be mentioned that if the pineapple is dehydrated, it should be consumed less content because the nutrients and vitamins are concentrated.
It is important to highlight that any dehydrated fruit should be consumed with caution because due to its small size, it´s easy to eat more than the recommended portion, causing weight gain because of its high content of carbohydrates and fructose contributing higher caloric content in smaller quantities.
The consumption of dehydrated fruits has grown during the last years because fruits are healthy products, easy to manipulate and transport them to any place. Some of the advantages of these fruits are that they do not lose their vitamins with dehydration. On the contrary, they intensify so people have started consuming them as snacks.
Some of the biggest consumers of this type of products are children and athletes. It´s a good snack for children because parents want to feed their children with healthy food, besides transportation is easier. On the other hand, athletes consume it because of their contribution of energy and unsaturated fats that allow them to exercise for longer periods of time, as well as transport it easily and without the need to carry too much because with a small portion they have the energy that they need.
A trend has begun to consume healthy foods and people also begun to incorporate them into their daily diet by mixing it with yogurt, chocolate, smoothies, among others. Previously, dried fruits were consumed only during Christmas and New Year's, such as snacks or desserts.
However, it began to increase in order to fight the obesity rates that have increased considerably in recent years, since people is consuming larger amounts than they should be and eating habits are based on junk food that does not provide nutrients or vitamins to consumers causing deterioration in health.
Consuming junk food can make you feel satisfied, but it does not bring anything of value to your body, only saturated fat, high cholesterol, lack of circulation, among other diseases. That's why, at Instantia we decided to create a food that would be beneficial to the world, as well as having a delicious flavor and that could be used in various dishes and as snacks.
The presentation of the dried pineapple can be in pieces giving a natural look and comes packaged with an inner bag of 44 pounds. If you have any special requirements please share it with us so we can help you.
Finally, we want to share with you some ideas on how to use dried pineapple.
Snack. Dried pineapple can be eaten as a snack between meals, to eliminate hunger. Take a Tupperware with you to work or school, when you want to eat a snack will be in perfect condition and you will not have problems of strong odors in your bag or carrying too much food all-day. In addition, if you are an athlete you can acquire energy for your training without feeling inflated, giving you what is necessary to continue with your day.
Snack at a party. Place a tray and place several dehydrated fruits like apple, pineapple, strawberries, kiwi, coconut and mango so that your guests can try the variety and you can complement it with a cheese tray, you can place any type of cheese that you like the most like goat cheese, parmesan, or softer chesses for children. Sure it would be different, and your guests will enjoy delicious and healthy snack during the party.
Green salad with pineapple. This recipe is very simple to make and is a very healthy option. You need a lettuce, ½ cup dried pineapple, ½ cup dehydrated cranberries, ½ cup of walnuts, one fresh apple in chunks and ½ cup of orange juice. The first step is to wash and disinfect the lettuce, and then stir everything in a bowl and you're ready. It´s quick and healthy! If you like you can add goat cheese.
Pineapple smoothie. Use a glass of milk of your choice (almonds, light, semi or other), ½ cup dried pineapple and you will have ready a very nutritious breakfast. If you wish you can add oat to contain more fiber. On the other hand, if you are in a program where you need to take protein shakes you can add dehydrated pineapple to give it a different flavor and maintain your diet and have the energy and vitamins to go the gym.
"Piña colada". It is very similar to the previous smoothie. But in this recipe we propose that you do it with coconut juice and add dried pineapple (if you want you can add more sugar or a substitute), ice and then put it all in the blender and you will have a recipe for summer that will fight the heat.
These are some of the uses you can give to dehydrated fruit products; you will have the option of making thousands of recipes, eating healthily and giving your family the best to enjoy a full and healthy life.
At Instantia we are concerned with the satisfaction of our customers, seeking to improve our production processes every day to be able to offer products of the highest quality, at a fair price and 100% natural that contribute vitamins and minerals and thus be able to positively influence your health. If you have any questions or suggestions, please contact us at our telephone numbers or via e-mail and we will be very happy to help you.