Benefits of dried mango
Mango is a fruit native of India. This fruit began to spread in the regions of Asia and Africa and later the Portuguese brought it to the American continent hundreds of years ago.
Among the main producers and exporters of mango is Mexico, which meets the highest quality standards requested by the countries of the European Union and the United States. It is from Mexico where Instantia selects the best mangoes from Mexican fields to turn them into dried mango. Other countries like India, Brazil and Thailand are also exporters of mango. Mangoes are a fruit that has different varieties and its nutrients change depending on variety and maturity.
Dehydration of fruits and vegetables is one of the oldest processes, as it was the way in which people could preserve these foods longer. By drying the fruits and vegetables microorganisms do not grow because they lack water so that their decomposition stops. There are different processes to dehydrate the mango, it can be outdoors, osmotic, solar or with hot air.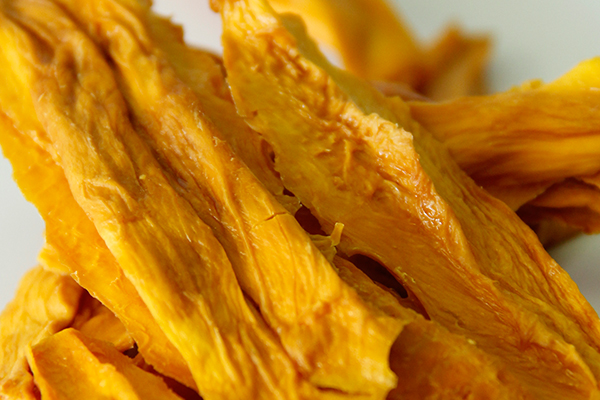 The technique of outdoor drying is undoubtedly the simplest, since only a blanket is placed under the mango or mango is hung and is in direct contact with the sun. Although it is the easiest to perform, being outdoors can affect the final product, decreasing its quality. The osmotic process is when mango is immersed in a liquid with sugar, and then dried up; and solar or hot air are the processes that produce products with better quality since you can regulate the heat and move the mangoes away from the air to protect them from contamination resulting in better quality in each product.
At Instantia we take great care of the quality of our products. That's why we control temperature to maintain the quality and nutrients of our products. In addition, we take care of every detail in the packaging of our products because an oversight can create microorganisms or diminish the quality of our products. Dehydrated fruits have a lower volume than fruits because water is eliminated and they have great nutritional value, they retain their nutritional value, they do not contain high levels of fat so their consumption is beneficial.
The mango is one of the most delicious fruits that ever exist and they are used for an endless number of dishes. They help to improve the health since they help to the process of digestion because they contain enzymes and proteins. Also, mango contains fiber and is useful against heart diseases. Another benefit of mangoes is that it contains vitamin A so they help the health of the eyes, preventing diseases such as corneal softening, burning and dry eyes and night blindness.
Mango also improves the skin because it prevents pimples and premature aging because it contains antioxidants. It also prevents anemia because it strengthens the blood circulation and being diuretic prevents fluid retention, prevents hair loss, strengthens the nervous system and fights insomnia. Also, mangoes contains magnesium, zinc, iodine, vitamins B, C, E and K that helps us strengthen bones, digestive and immune system. On the other hand, mangoes contain pectin which helps reducing cholesterol and prevents prostate cancer.
Eating mango has great benefits for our health, in addition it helps keeping us healthy because of its fructose content gives us energy to be able to perform our daily activities.
Dried mango don´t require refrigeration and last longer than fresh fruit. On the other hand, being dehydrated the vitamins contained in the mango are intensified and that's why it contains more calories and carbohydrates than the fresh ones. Most of the calories from dehydrated mango come from carbohydrates as it contains small amounts of protein and fat.
Dehydrated mangos are often used by people who actively exercise for energy and sugar, and it is recommended for children and is a natural product. It is suitable for vegetarians, it does not contain gluten, and in addition they reinforce the immune system.
For decades, mangos have been used to calm the stomach. For people who are looking to gain weight, eating mango is one of the easiest ways to gain weight. Because of their caloric content, they contain starch that causes weight gain if more fruit is consumed than recommended.
When you go to the supermarket to choose dehydrated fruits check that they are dried ones and not the ones that have more sugar. The difference is that some dried fruit have sugar added which makes them less healthy and not a 100% natural snack. We have already commented that the nutritional value of the fresh fruit is maintained in the dehydrated fruit and even increases the concentration of nutrients and antioxidants.
People with diabetes can consume them moderately, because of the high fiber content that they have the sugar don´t induce fast increases in blood glucose (glycemic index). Depending on the fruit is the glycemic index it possesses. For example, raisins can lower the level of glucose in the blood.
The negative effects that dehydrated fruits could have are to consume more than the recommended portions because of their weight and size (smaller than fresh fruits). Sometimes may cause people consume more than they should and may cause gain weight. Therefore, it is important that when buying dehydrated fruit, do not be candied, as it would bring more calories.
Some of the recipes that you can prepare with dehydrated mango are the following:
Snacks. The easiest is to take it as a snack to any place. One of the advantages is that it is not odorous, and is not heavy. So you can take it anywhere.
Mango milkshake. Certainly one of the most delicious ways to eat mango is in smoothies or milkshakes. The first thing is to place milk (the one of your preference) and ½ cup dried mango in the blender. It is very easy and fast. It is a breakfast with many properties that fills you with energy.
Dried mango with yogurt and oat. You can use any type of yogurt, we recommend greek yogurt because it provides greater protein and less fat, oat provides fiber and gives it a good taste; and dried mango gives us great flavor and lots of benefits (as we mentioned above). With this you have a perfect meal to start your day.
Snack of mango with chili. This is very simple to do. Place in a bowl ½ cup of water, sugar, salt and chili powder. You need to make a paste with the ingredients, then you put the mangoes in and mix it, finally you will have a spicy and different snack.
If you want to do something a little more complicated, we also recommend some salads that are perfect with any meal. Remember than dried fruit it´s a complement of your meals, not your only meal. That way you will have lots of nutrients.
 Salad with dried mango. For this recipe you will need:
– 1 lettuce, 1 fresh apple, 1 cherry tomatoes, 0.18 pounds of cheese, ½ cup of walnuts, ½ cup of almonds, 1 cup of dried mango and ½ cup of dried raisins.
– The first thing to do is to wash the lettuce and cut it, cut the cheese into squares and place the tomato in halves and the apple in small squares.
– In a bowl mix the lettuce, cherry tomatoes, cheese and apple. Then add the walnuts, almonds, dried mango and raisins. You can place balsamic vinegar or any other dressing of your preference. And you will be ready to enjoy a perfect day with your friends or family with a delicious and healthy salad.
dried mango arugula salad. This is also a fast salad to do and everyone will love it.
The ingredients are: baby arugula, ½ cup of dried mango, 1/3 cup of dried cranberries, 1/3 cup of almonds or walnuts, and fresh mozzarella or goat cheese. You can mix it up with vinaigrette, honey or your favorite dressing.
Instantia is a leading global natural food company, always focused on working together with the local producers which allow us to get the best product with the highest quality and with a fair price; we care about the environment, the people in our company and our clients; we want to produce and be a part of people´s lives in a positive way, by improving their health, with quality products that they can consume every day.
Give yourself the opportunity to try our products and become a preferred customer of this company; you will be buying an excellent product that will help you and your customers to have a healthy life with delicious and natural dried fruits. Don´t waste more time searching, contact us at (55) 2166 9191 – (55) 2166 9492 – 01 728 2820230 or send us an email to info@instantia.com and we will be happy to solve all your doubts and share with you our processes and products, so you will be sure about the quality of each product.